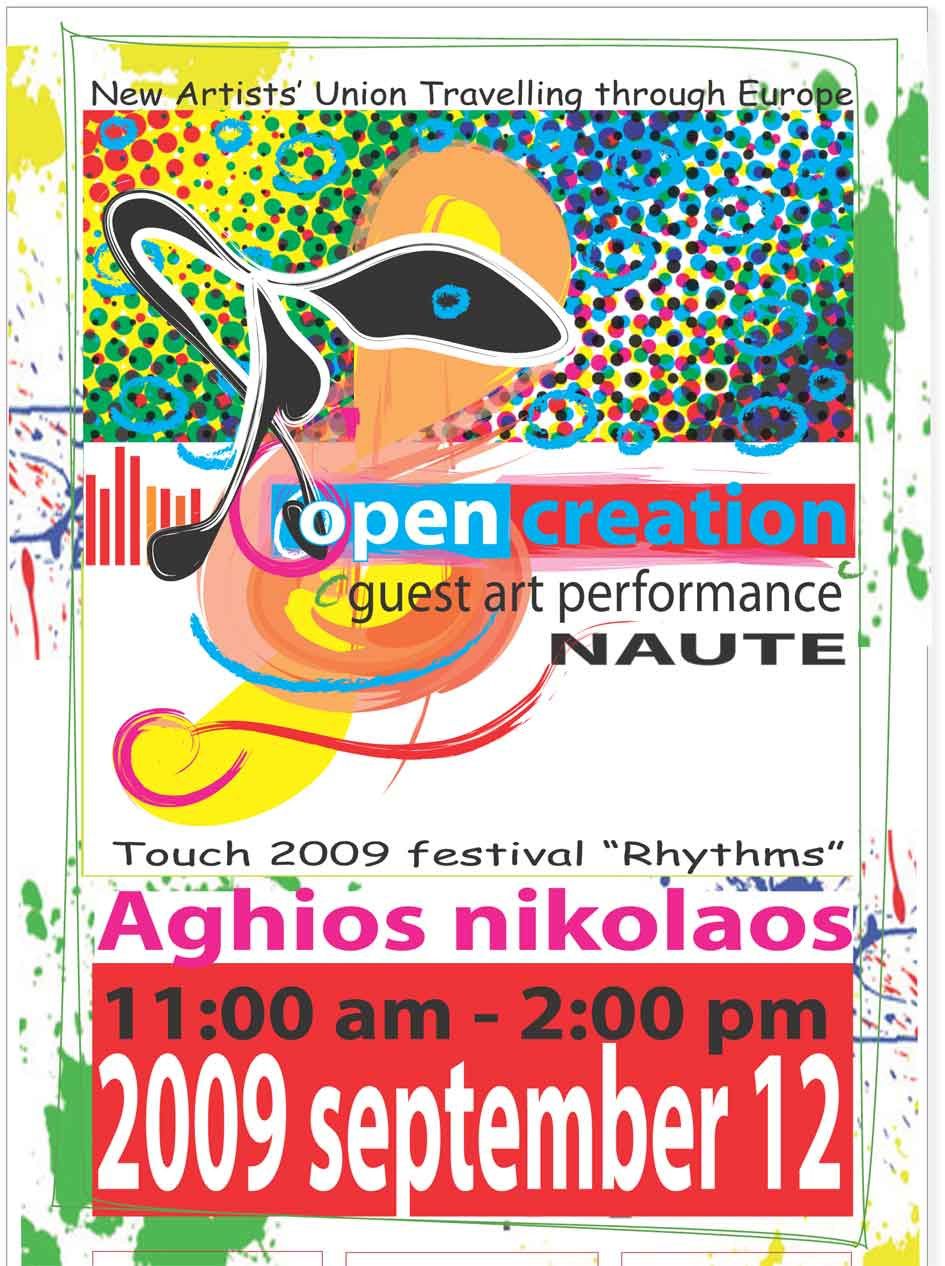 «Open Creation »
Performance to the lake, Aghios Nikolaos, Crete
2009 Saturday 12th of September

In the series of the events program Artists in Touch 2009 "Rhythms" organized by the Cultural Organization of Aghios Nikolaos, NAUTE is invited to performe.
The NAUTE's action aims to encourage interchanges, creation and artistic interests and artists ask the public from all range of age (2 to 99 years) - no artistic knowledge needed - to create and paint together on contemporary rhythms & songs travelling though Europe...

Enthusistas, Artists NAUTE members in action ...
Participation calls are still on, please contact NAUTE...support us the 12th of september at Aghios Nikolaos!

«Ανοικτή» δημιουργία
Γύρω από την λίμνη,
Αγιου
Νικολαου
Κρήτη

2009 Σάββατο, 12 Σεπτεμβρίου
Στα πλαίσια του
καλλιτεχνικού προγράμματος
in
Touch
2009 "
Rhythms
"
, οι καλλιτέχνες και τα μέλη του
NAUTE
- με στόχο να ενθαρρύνουν τις ανταλλαγές, τη δημιουργία και το καλλιτεχνικό ενδιαφέρον - προσκαλούν το κοινό κάθε ηλικίας (από 2 έως 99 χρονών) για να Ζωγραφίσουν και να Δημιουργήσουν μαζί, σε σύγχρονους ρυθμούς & τραγούδια από όλη την Ευρώπη.
"Open creation"
autour du Lac d'Aghios Nikolaos, Crete
Samedi le 12 septembre 2009, 11h00
Les artistes de NAUTE invitent le public à peindre une composition picturale libre sur des sons et musiques contemporains le
samedi 12 septembre 2009
autour du Lac, au centre de la ville touristique d'Aghios Nikolaos. L'oeuvre sera ensuite exposée à la galerie Municipale durant le festival Intouch 2009 "RHYTHMS".


Contact : mjschumacher@art-naute.org
»
Περφόρμανς
Performance