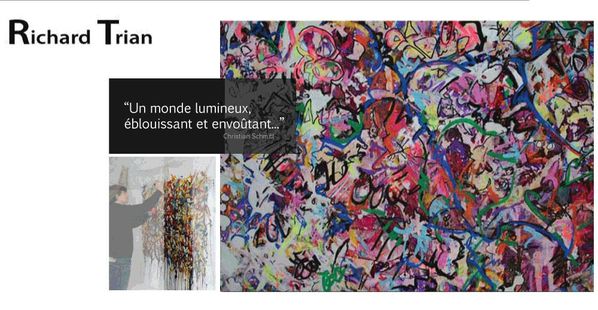 Exploring support materials the painter RICHARD TRIAN is putting his talent of creator in producing an enthusiastic world -sensitive and intelligible-to help you finding modern philosophies.
Those exceptional paintings using contemporary tools and colours to set new imagery seduces with their technique, their high quality of painting acrylic on canvas and their compositions. The Urban Tattoo painting series by the French painter are savant graphic & pictured signs stage designed and share therapeutic and artistic experiences. Also those are more than refreshing and colourful rendition of today's times in action; you might let your eyes captivated and your imagination running until shows up the message which is maybe attended to you this time.
Don't miss the artist venues ! New paintings of the emerging established artist can be seen some days more at the new ArtGallery located Saint Maur des Fossés in France. Richard Trian series are also currently exhibited in Crete and on art-sourcing.eu and is member of NAUTE. (M-J. Schumacher, 2014).
Current exhibition:
Galerie 42b ATELIER
29, avenue du Port au Fouarre
94100, Saint Maur des Fossés.
www.galerie-42b.com
Official website of the French artist: