CULTURAL HERITAGE & MUSICALITIES around the Mediterranean sea.

*

Exposition collective et performances

Evènement artistique annuel NAUTE.
Le projet regroupe les artistes internationaux de divers horizons ayant répondus à l'appel à candidatures 2009/2010 de NAUTE et associe partenaires culturels et professionnels des arts. Le thème proposé est celui de la quête des héritages culturels comme un hymne au voyage, à la musique - autour de la méditérranée.

Date limite des propositions artistiques : le 19 février 2010. En savoir plus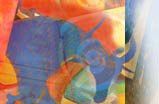 Once more, NAUTE announces its new thematic ART EXCHANGES EVENT. A collective artistic project in which the story line is interspersed with or developed by songs, dance, poetry and the like, showcased in all fields of modern visual arts & performances.
This project is being conducted competition open to all living established and emerging artists worldwide. The participation is based on artistic and technical excellence and suitability of the artwork to the project and its construction schedule. Call for entries, Application deadline : by 2010/02/19 (postmark date).
Για ακόμη μία φορά ο Naute ανακοινώνει την νέα θεματική του έκθεση.
Ένα ομαδικό εικαστικό πρότζεκτ στο οποίο η πλοκή της ιστορίας διανθίζεται ή αναπτύσσεται από το τραγούδι , τον χορό, την ποίηση η την λογοτεχνία και αποτυπώνεται με σύγχρονο εικαστικό τρόπο.
Το συγκεκριμένο πρότζεκτ είναι μια εικαστική πρόκληση ανοικτή σε όλους τους ενεργούς καθιερωμένους και αναδυόμενους καλλιτέχνες παγκοσμίως.
Η συμμετοχή/ επιλογή των έργων βασίζεται στην αρτιότητα τόσο της καλλιτεχνικής όσο της τεχνικής αλλά και θεματικής προσέγγισής του.
ΣΥΜΜΕΤΟΧΕΣ: Προθεσμία αίτησης: μέχρι 19/02/2010 (ημερομηνία ταχυδρομείου).