Hervé PERDRIEL

2010 NOVEMBER 25-DECEMBER 31
Art jingle Contemporary
31 bis rue des Tournelles, Paris, 3e
Hervé Perdriel was born in Paris in 1972. Self-taught, his professional experience in the field of image data-bases and illustration enabled him to become alert regarding image induced effects on the senses. He has worked with photography during the past decade. Since 2004, inspired by the city's architecture, he started digital photographic collage. Today, Hervé Perdriel lives and works in Paris, drawing figures and places to metamorphose from his urban perambulations.
.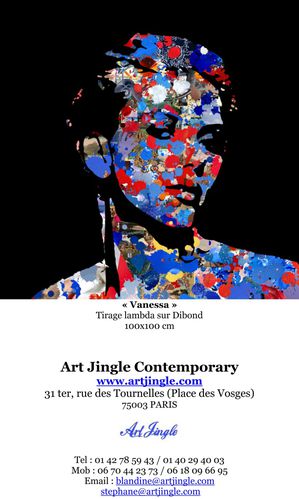 Hervé Perdriel est né à Paris en 1972. Autodidacte, son expérience professionnelle dans le domaine de la banque d'image et l'illustration lui a permis d'acquérir un œil avisé quant aux effets de sens induits par l'image. Il travaille la photographie depuis une dizaine d'années. Depuis 2004, inspiré par l'architecture de la ville, il se lance dans le collage photographique numérique. Aujourd'hui, Hervé Perdriel vit et travaille à Paris, puisant dans ses pérégrinations urbaines figures et lieux à métamorphoser.
Ο Hervé Perdriel γεννήθηκε στο Παρίσι το 1972. Είναι αυτοδίδακτος. Η επαγγελματική του εμπειρία στον τομέα των βάσεων δεδομένων εικόνας και της εικονογράφησης του επέτρεψε να αποκτήσει εξασκημένο μάτι σχετικά με τις επιδράσεις των αισθήσεων που προκαλούν οι εικόνες. Εργάζεται με τη φωτογραφία εδώ και δέκα χρόνια. Από το 2004, εμπνευσμένος από την αρχιτεκτονική της πόλης, άρχισε το ψηφιακό φωτογραφικό κολλάζ. Σήμερα ο Hervé Perdriel ζει κι εργάζεται στο Παρίσι, αντλώντας από τους αστικούς περιπάτους του όψεις και τόπους προς μεταμόρφωση.